On Tuesday, December 4 Dr. Peter Flint of the Dead Sea Scrolls Institute at Trinity Western University will present his lecture "The Dead Sea Scrolls and the New Testament." This long-awaited lecture will be held at Fraser Hall 4 on the campus of Western Washington University in Bellingham, Washington. The event will begin at 7:00 PM and admission is free.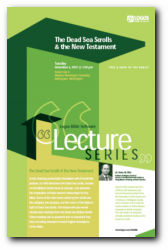 In this stunning presentation illustrated with PowerPoint pictures, Dr. Flint will introduce the Dead Sea Scrolls, focusing on the biblical scrolls found at Qumran, and discuss the implication of these ancient manuscripts for the Bible. Some of the vital issues raised by the Scrolls are the antiquity, the accuracy, and the canon of the Bible in light of the Dead Sea Scrolls. The lecture will also reveal several new readings from the Dead Sea Scrolls. These readings are so powerful and so important that they are being included in recent English translations of the Bible.
As Dr. Flint will note in his lecture, there have been major advancements in the study of the Dead Sea Scrolls in the past few years. At Logos we're doing our part to increase the distribution and in-depth study of the scrolls through the upcoming Qumran Biblical Dead Sea Scrolls Database.

About the Speaker
Peter W. Flint received his Ph.D. (1993) in Old Testament and Second Testament Judaism from the University of Notre Dame and is Professor of Religious Studies and Co-Director of the Dead Sea Scrolls Institute at Trinity Western University in British Columbia. He is the author of numerous studies on the Dead Sea Scrolls, including the critically acclaimed The Dead Sea Psalms Scrolls and the Book of Psalms (E. J. Brill, 1997), co-author of the widely-read Dead Sea Scrolls Bible (Harper San Francisco, 1999), and editor of the major two-volume collection The Dead Sea Scrolls After Fifty Years: A Comprehensive Assessment (E. J. Brill, 1998-99).
Parking Information
The lecture will take place in Fraser Hall 4 at Western Washington University. On the WWU campus map you will notice that Fraser Hall is located between Red Square and East College Way. There will be pay parking available along East College Way and free parking is available after 5:00 PM in the large south lot on campus. Please note that the south lot is a 5-10 minute walk to Fraser Hall.