You've probably learned by now from our posts about Chili Cook-Offs (2007, 2006), Curry Cook-Offs (2007, 2006), Soup Cook-Offs (2006, 2005), Salsa Cook-Offs (2006), Bake-Offs (2006), and Thanksgiving Dinners (2007, 2006) that we like to eat! This is just one of the many reasons that working here is so much fun!
Last Friday we had the 2007 Logos Bake-Off. There were 12 entrants and lots of hungry judges! Here they are in action.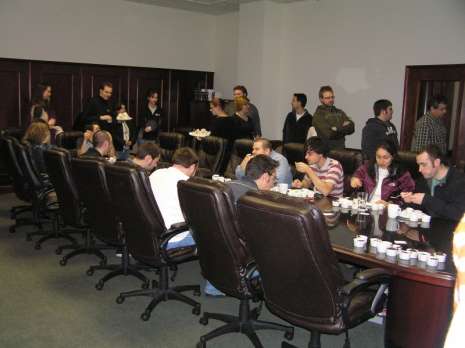 While everything was delicious, four desserts rose to the top.
Here are the winners:
1st Place: Don and Tara Everett's "Chocolate Everything" creation (#12)



2nd Place: Katie Swanson's Coconut Cream Cake (#6)



3rd Place: Pete and Shara Heiniger's Chocolate Bundt Cake (#8)



and: Deborah Mickens' Eggnog Butterscotch Cookies (#9)


We also have one recipe to share. While it's not one that placed, it's still sure to please.
Chocolate Star Cookies
by Ryan Husser
Components:
½ cup peanut butter
½ cup granulated sugar
½ cup brown sugar
½ cup (1 stick) butter or margarine
1 egg
1 ¾ cups flour
1 teaspoon baking soda
½ teaspoon salt
2 tablespoons milk
1 teaspoon vanilla
About ½ cup addition granulated sugar in separate bowl
About 60 Brach's chocolate stars (available in bulk at Fred Meyer)
Assembly:
Preheat oven to 375° (190 Celsius).
Cream butter and sugars (granulated and brown) in large mixing bowl.
Mix in peanut butter and egg.
Mix in flour, baking soda, salt, milk and vanilla.
Roll dough by hand into ½ inch balls.
Roll dough balls in additional granulated sugar.
Bake for 4 minutes.
Remove from oven, press a chocolate star into the middle of each cookie.
Bake for another 3–4 minutes.
Recipe yields approximately 5 dozen cookies.