Tonight Logos welcomes author and professor Dr. H. Wayne House to Bellingham for the Logos Lecture Series. Dr. House will present on "The Jesus Who Never Lived: False Christs and the Authentic Jesus."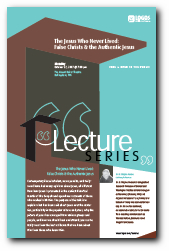 Ever since Jesus came to earth there has been a variety of ways in which He has been understood by those who have supposedly been His followers and by others who have had only a curiosity about Him. Some early Jews viewed Him as a prophet, while some early followers considered Him only a man (Ebionites), not a man at all (Gnostics) or a lesser god than the Father (Arians). Later Islam embraced Jesus as one of their prophets, and eastern mystics have considered Him as a guru. Since the enlightenment there have been four historical quests to discover the real Jesus, one who is only human in contrast to the voice of the orthodox church since its earliest days. Contemporary liberal scholars, news pundits, and Hollywood have had many opinions about Jesus, all different from how Jesus is presented in the earliest historical records of the Gospels and eyewitness accounts of those who walked with Him.
The purpose of this talk is to explain what has been said about Jesus over the centuries, particularly in the popular culture and press, why the picture of Jesus has emerged from various groups and people, and how we should best understand Jesus as He really was from the best evidence that we have about Him from those who knew Him.
Dr. H. Wayne House has authored or edited 30 books from publishers such as Zondervan, Thomas Nelson, and Kregel. He is the New Testament editor of the Nelson Study Bible and Nelson Illustrated Bible Commentary.
Please join us tonight at Bellingham's Mount Baker Theatre at 7-8:30 PM. The lecture is free and open to the public.