Logos Bible Software for the Mac is getting closer all the time! Yesterday we were able to record our first video showing the software in action.
Click on the image below to view the high-res version of that video. The video may take a few minutes to load. If you really can't wait, you can view the low res version by clicking the link below the image.
Please note that the video has no sound.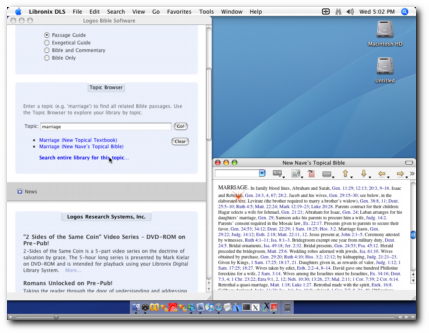 High Resolution (33 MB) – Low Resolution (18 MB)
The software is showing books, running searches, comparing versions, creating a Passage Guide, and more. (Today we even inserted a shipping DVD and discovered, copied, and viewed existing electronic books without modification.)
There are bugs to fix, help files to write, features to hook up, and some polishing we need to do on the user interface. It shouldn't be too long before we're able to release an Alpha for external testing.
Just a reminder: There is no beta list. When we're ready for Alpha or Beta testing, we will announce it to this email list and at www.logos.com/mac. So please do email us your encouragement and feedback, but please don't email us asking to be on the top-secret, VIP-only, private early beta list. Because there isn't one. :-)