This past Friday was the seventh annual Logos Chili Cook-Off. Guest blogger Mark Van Dyke manned the camera, took some pictures, and files this report. Thanks, Mark!
On Friday, June 29 twelve Logos employees entered their time-honored (or recently 'Googled') chili recipes in a battle royale of meat, beans and tomato sauce.
Even before the clock hit high noon, this competition was unlike any other in Logos history. You see, when National Sales Representative Ed Hale heard about the contest he knew he had to enter. There was just one small problem – he lives in Escondido, CA and the competition was taking place at Logos headquarters in Bellingham, Washington. In order for Ed enter the competition he needed to figure out a way to get his chili to the Pacific Northwest.
The story could only end one of two ways: either this would turn into a messy disaster at the post-office or Ed's chili would win and he would enter cook-off immortality. The result? Ed won the chili cook-off, got the girl and is selling his story to 20th Century Fox for millions.
And that was just in the "Mild Chili" category. This year's competition required contestants to declare their chili as being "mild" or "real". The "Real Chili" gold medal went to Scott Sanders of Logos' Electronic Text Development department. This was a great send off for Scott as it was his last day working at Logos. Scott will be taking his 'Roasted Robot Chili' on the road as he bikes around the northwest for the next couple weeks. All this made for an memorable event and a great time for all involved.
Check out the chili-rific pictures below!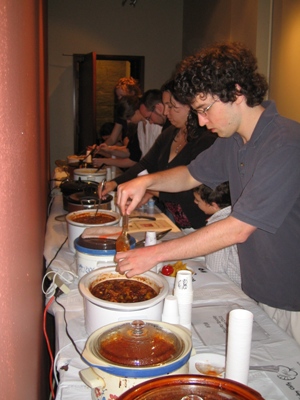 The contestants make their final preparations before the competition begins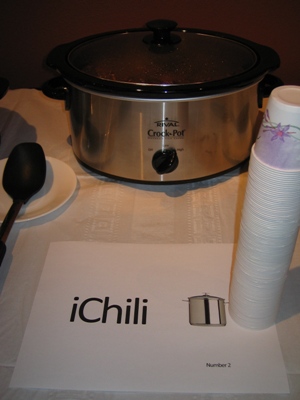 Unofficial winner of the "best chili name" category.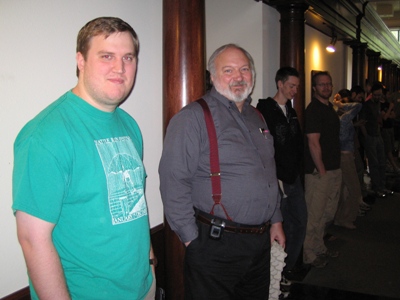 While techies around the country lined up for their iPhone our sole attention was on chili.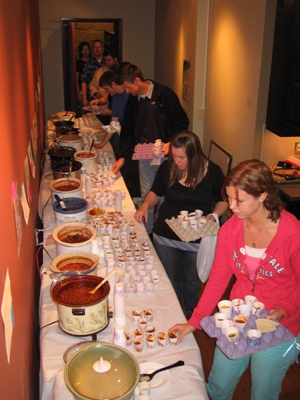 Let the eating begin!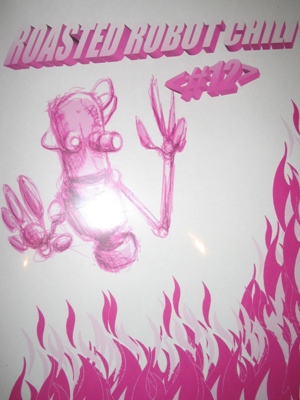 Scott Sanders' winning entry: "Roasted Robot Chili"