You might think that we "book digitizers" have little appreciation for the aesthetics of an old book but quite the opposite is true.
Fact is, most of us will disappear for hourswhen given the chance to wander a good, used bookstore.
One of the things I love about old books is leafing through the pages in the back to see the advertisements inserted by the publisher. For example, Lange's "Lost Volume" of commentary on the Apocrypha (published 1880)contains a list of "Popular and Standard" books published by Charles Scribner's Sons in 1879.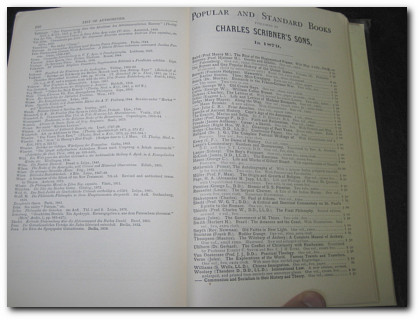 Some of the titles and authors that I recognized:
I findthese advertisement pagestoprovide a fascinating, if unscientific, glimpse into themilieu in which the author was writing—what other books and authors were on the scene at the same time.
We don't include these pages in Logos electronic editions simply because we never have. But I'd be interested in hearing from you…do you find value in things like the publisher's advertisements from public domain books? Do you think it would be odd or out of place to include these "historical artifacts" in an electronic edition?
I don't know that we would start including them, I'm just interested in hearing your thoughts!