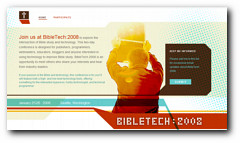 Announcing BibleTech 2008, January 25-26, 2008, in Seattle!
I enjoy hanging out with Bible geeks and talking technology. I enjoy it so much that every morning I tag along with a handful of Logos developers for a brisk walkabout, and learn all aboutthings like"expression trees" and "lambda methods" (or is it lambda trees and expression methods?).
Regardless of whether you know your trees from your methods, you are invited to BibleTech 2008!
It is a two-day conference where publishers, programmers, webmasters, educators, bloggers, and others who work (or dabble) at the intersection of Bible and technology will come together in one place for great networking, presentations, and discussion!
I don't know of any other conference like this, and I hope2008 will be the first of many. Be sure to visit http://www.BibleTechConference.comand check out the details and tentative list of speakers!
Also visit the Call for Participation and propose a talk on a project you're working on, new technology you're excited about, where you see the industry headed, or any Bible+Technology topic you'd like to address.
What BibleTech is Not
BibleTech is not a conference about Logos Bible Software…it's about Bible software, and online Bibles, and open source Bible databases, Bible mark-up schemes, software for Bible translation, Bible microformats, Unicode fonts for Bible display, semantic Bibles, visualization of Bible data, and I think you get the picture. Technology related to the Bible.
So mark your calendar…and we'll look forward to seeing you in Seattle!
Note to bloggers: If youblog about the BibleTech conference, consider using the "bibletech08" tag so that posts about the conference are easy to find in Technorati and others. Thanks!