by Zack Rock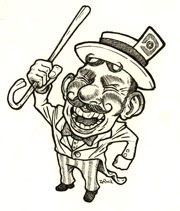 Dear readers, I set before you a challenge. I challenge you to visit your local massive retail establishment, peruse their value bin, and find something there that is – gasp! – actually valuable. I'm not talking about tainted boxes of cereal, misshapen candles that reek of patchouli, oversized wall clocks emblazoned with David Hasselhoff's image, or any other mainstays of the discount bin. I want you to find something that will benefit you year after year – something that, dare I say, will change your life.
Now, unless you regularly experience religious epiphanies at the sight of Hasselhoff's partially-obstructed face, I contend that you will find exactly nothing that could even come close to being described as "valuable." Personally, I've only ever found one bargain item that was worth the three hard-earned Canadian dollars spent on it: Tom Hanks' made-for-TV masterpiece Mazes and Monsters, a cautionary tale depicting the effects role-playing games have on young minds (which includes both schizophrenia and the wearing of outrageous hats). To this day, it remains the crown jewel of my VHS cassette collection.
Were you aware, then, that every day your favorite Bible-related software publisher offers bargain bin discounts on resources that you'd actually want? That's right, folks, bona fide Bible reference books at low, low prices. How low, you ask? You tell us.
With the Community Pricing Program, you set the prices for every product on the page! If enough customers commit to purchase the product at or below the price you choose, the product gets sent into production, and, alakazam, you've got yourself another great resource in your Libronix library…usually for just a few dollars. For more information about how Community Pricing works, take a gander at the About Community Pricing page.
We just added two terrific titles to Community Pricing – Ellicott's The Pastoral Epistles of St. Paul and H.B. Swete's Patristic Study.And recent additionsAn Introduction to the Literature of the Old Testament by S.R. Driver andthe classic Studies in the New Testament by A. T. Robertson have shot past 60% in record time.
Also notable is Deissmann's Bible Studies, which has gathered more than 60% of bids needed to put it into production.
Things are a-hoppin' on Community Pricing, so stop on by and find yourself a real deal!
Guest blogger Zack Rock craftsprepubpages and wears outrageous hats. In his spare time he draws illustrations.