Did you know about the free service offered by Logos that lets Internet users find out what the Bible says about a topic? And did you know you could host this free topical lookup on your own site?
The URL is http://wbsa.logos.comand here's what it looks like: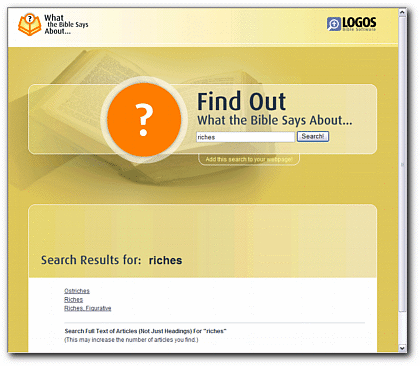 Enter topic, click "Search!" When you click through on a result, you'll see a list of Bible verses linked to Bible Gateway so you can read verses in the Bible version of your choice. I searched on riches, which alsowildcard-matches ostriches.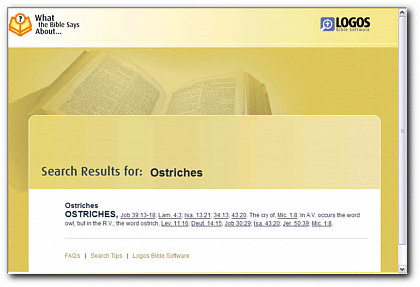 Who knew the Bible had so much to say about ostriches? Even a quick survey of these 12 verses shows some difference of opinion among translators as to whether the animal named is an owl or an ostrich. And there's a strong association between jackals and ostriches/owls as inhabitants of desolate places.
I hinted at the beginning of the post that you could put this lookup on your own site, and you can! Just paste this code into your site:
<iframe frameborder=0 src="http://wbsa.logos.com/module.htm" width=540 height=138></iframe>
The resultlooks something like this: