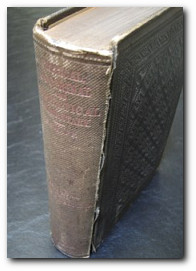 I love a good story, and this one illustrates a couple of qualitiesLogos strives for and that we have touched on in previous posts: obsessive attention to detail and listening to customers.
A couple of weeks ago, Logos user Jerry Peterson wrote to suggest@logos.com to let us know about an oversight in our description of Lange's Commentary on the Holy Scriptures (24 volumes)on the prepub page:
Dear Logos,I was elated to see that the Lange's Commentary set has moved into the developing stage. I am one of the pre-publication purchasers of Lange's 24-volume commentary. As I was reviewing the list of books today, I realized that the commentary on the Apocrypha is not included with this sale. I have the printed set. It contains 25 volumes with the Apocrypha as Volume XV of the Old Testament.

In the Preface, Philip Schaff wrote, "It has been deemed timely to issue, as a supplementary volume to Lange's Bible-work (which is confined to the canonical books), a revised version of the Apocrypha, with critical and historical introductions and explanations. Homiletical hints would, of course, be superfluous for Protestant ministers and students." The Preface was written on June 14, 1880.

Although I am a Lutheran pastor, I have appreciated having this additional commentary with my set. Please give serious consideration to adding this book to Lange's Commentaries.

Thank you for the consideration.Jerry Peterson
Now this was news to us. A 25th volume…how could we have missed it? Clearly it was not arecent addition to the set, since it was published in 1880! This question hit particularly close to home since I wrote most of the original marketing copy for the product back when it was offered via Community Pricing.
It turns out that the publishers who reprint Lange's commentary today have dropped the volume on the Apocrypha. I can only guess the reasons, but I suppose it was considered of little use to a largely Protestant readership and would have expanded the series beyond the tidy dozen double volumes used to contain the whole.
Once Lange's "Lost Volume" surfaced, we had to decide what to do about it. The cost to order a copy of this rarebook and digitize the additional 680 pages was not part of our initial cost estimate.
Fortunately, the decision was not too difficult. It would be lame to publish an incomplete set, if we could possibly do the whole thing. We found a first edition copy, printed in 1880, which I'm now holding in my hands and which will soon join its 24 brethren to betyped and tagged.
The price of the collection will not be changed by the addition of this volume but we'll feel better knowing it's complete…and trust that you will appreciate the additional material. I know Pastor Peterson will!
Dear Daniel,

A big THANK YOU for including the 25th volume! I SO appreciate the work that Logos is doing. I NEVER expected to have a library to this extent! And I have literally run out of book space in my regular library. (And then, needless to say, the ability to have so much research at your finger tips is wonderful!)

Yes, please feel free to use my email… Glad to be of help.

Pr Jerry Peterson