If you are teaching yourself Greek or Hebrew or simply trying to keep your skills sharp, you may want to check out these freevocabulary lists that can be downloaded and opened within Logos Bible Software 3:
Vocabulary Lists for Popular Grammars
We've built vocab lists built around 11 Greek grammars, 6 Hebrew grammars and 2 Aramaic grammars. Some of these grammars are available for Logos Bible Software; some aren't.
I was particularly excited to see a vocabulary list for Athenaze, the grammar I used when learning classical Greek at Hope College.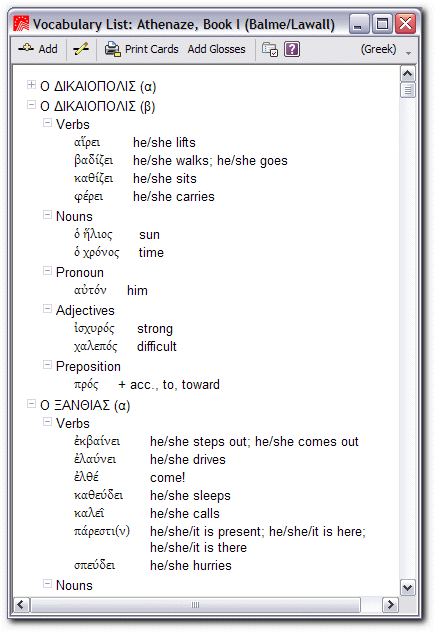 As you can see, the vocabulary words are given in the same order as they appear in the grammar, following the lessons or chapters and part-of-speech divisions. You can edit the glosses and words provided, delete an entry in the list (words you already know, perhaps?), and re-sort the entries.
Tip: To manually move a vocab word up or down the list, click and drag it. To delete a word, click it once and hit the Delete key.
Another cool thing is that you can print these vocab lists to make flash cards! So whether you're starting out on the adventure of learning a biblical language—or want to make sure your skills don't rust over the summer—take advantage of this freebie and give your studies a boost!
See also:
How-To: Make a Vocabulary Guide with Word Frequencies
How come I don't have the Vocabulary Lists feature? Vocabulary Lists are part of the Original Languages Addin, included in the following Logos 3 collections: Original Languages Library, Scholar's Library, Scholar's Library: Silver, and Scholar's Library: Gold. If you own the Original Languages Addin as part of an older collection but have not updated to Libronix DLS v3.0 or greater, you can get Vocabulary Lists for free: open Libronix DLS and click Tools | Libronix Update. If you own a collection like Bible Study Library or don't own a base collection, you can get the Original Languages Addin by upgrading to a Logos 3 collection that includes the addin or purchasing it individually.