How does the "greatest story ever told"—what C.S. Lewis and J.R.R. Tolkein referred to as "true myth"—get picked up and echoedin the popular storiesof Western culture?
The Bible and the Arts collection brings together four books with more than 1,300 pages of material exploring the intersection between popular culture artifacts and the Bible.This collection hasbeen gathering interest for some time and is now under development in our electronic text department.
If you're a fan of the silver screen, a preacher who likes to illustrate or punctuate a sermon with examples from literatureor film, or simply a person who enjoys literature and art, this collection is for you.
These four books would make for a great read straight through. Do a word or phrase search to zero in on an idea. Put the booksinto a defined collection within Passage Guide toserendipitously discoverany references to your Bible passage when running the Passage Guide report.
For example, using a prototype build of Gospel Images in Fiction and Film, I ran Passage Guide on Matthew 2 and came up with 8 links to discussions in the book that touch on that passage. (click for a larger image)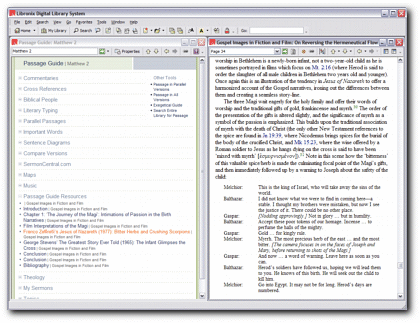 Here we find some great discussion of how the visit of the Magi is treated in four different films: Pier Paulo Pasolini's The Gospel According to St Matthew (1964); Franco Zeffirelli's Jesus of Nazareth (1977); William Wyler's Ben-Hur (1959); and George Stevens' The Greatest Story Ever Told (1965).
There areinsightful analyses, comparisons between the various treatments, and reflections on how the movie makers use the Magi's visit to foreshadow Christ's Passion. Earlier in the chapter, the author provides a brief survey of the Visit of the Magi in art and popular imagination and offers some thoughts on T.S. Eliot's 1927poem "Journey of the Magi."
Here, then, is a rich abundance of ideas that would enliven your study or teaching of a well-known Nativity passage. And much more awaits those who add this collection to their digital library!