Logos 3 launchednearly 14 months agoon May 1, 2006, and since then not a day has gone by without someone upgrading to version 3.
We've talked aboutvarious books and features of version 3here on the blog, launched two road trips, and sent out some pretty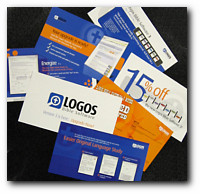 postcards to those in our database who haven't upgraded.
And yet more than a year later, some of you are still missing out on what Logos 3 has to offer.
It could be that we've said too much across too many venues and what's needed is just a simple list of the most compelling features of Logos 3.
So here is that list: The Top 20 New Features of Logos 3
The Top 20 list was compiled by our ministry relations team and is the product of countless conversations with customers about what really matters to them.
These are the features that get oohs and aahs when demonstrated to a live audience and that have the greatest impact on the user's Bible study. We've gone out of our way to explain the benefits of each new feature and what it means for your Bible study.
Each feature is also illustrated with a screenshot and includes a link to a tutorial video (if available). Socheck it out…perhaps this is the prompt you've been waiting for totake your Bible study to new heights!