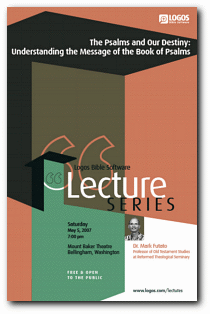 On Saturday, May 5 the Logos Lecture Series will feature Dr. Mark Futato of Reformed Theological Seminary. Dr. Futato will be presenting a lecture entitled "The Psalms and Our Destiny: Understanding the Message of the Book of Psalms."
The Psalms contain some of the most beautiful poetry ever written. However, what often goes unnoticed is that they have been purposefully arranged in order to tell the story of God's grace and mercy. Dr. Mark Futato, one of the nation's top scholars on the Hebrew language and the Psalms, will illuminate the message of the Psalms and help attendees further appreciate this beloved part of the Bible.
Lecture details:
Date: Saturday May, 5
Time: 7:00 PM
Location: Mount Baker Theatrein downtown Bellingham
Admission: no charge!
If you can't make it to the lecture, you can always check outsome of Dr. Futato's teaching on Psalms in the audio files posted at Third Millenium Ministriesor his book Transformed by Praise: The Purpose and Message of the Psalms. Futato's widely acclaimed Hebrew grammar is available for Logos Bible Software.
Speaker Bio
Dr. Mark Futato is currently the Academic Dean at Reformed Theological Seminary in Orlando. He received an M.A. and a Ph.D. from the Catholic University of America as well as an M.Div. from Westminster Theological Seminary in Philadelphia. Dr. Futato teaches courses on Hebrew, the Psalms and other biblical wisdom literature.