It looks like Amazon.com is doing an experiment in social tagging. UnSpun beta allows users to create lists of anything they want, associate links with each item, then open up the list to the community of Internet users to rank and comment.
One of the most popular lists at UnSpun right nowis titled Best Blogs about Biblical Studies. It lists 65 blogs that deal with biblical studies issues. It's worth visiting as you will probably find some new blogs or sites to check out.
The way their ranking system works is that visitors can "vote" for items on the list by clicking the up or down arrows as shown below (see the "click" pointer).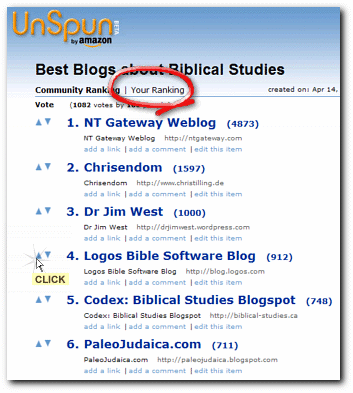 If you click the Your Ranking link and sign in, you can create your own ranking of some or all of the items in the original list.
Just click the left-pointing arrow to move items to your list (as shown below). This impacts their spot in the Community Ranking even more than the simple up or down vote.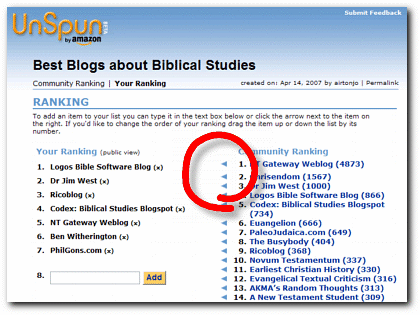 Check it out and show your support for the LogosBlog if you are so inclined.
Other UnSpun lists that may be of interest: