As you may recall, we announced last month that Logos Bible Software 3 is nominated for Consumer Product of the Year by the Washington State technology industry association. In fact, this nomination means Logos is counted among the (cue soundtrack) Heroes…of…Innovation!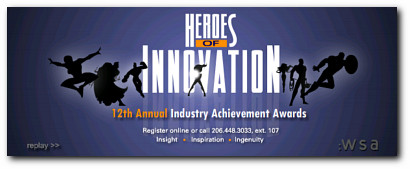 This year the association is doing a new thing: a Community's Choice Award. In addition to the winners in each category there will be a kind of "people's choice" winner as voted on by…the people.
That's where you come in!
We'd really love to stand in front of 1,000 attendees at the awards ceremony—all of them creating greattechnology products that help people in various ways—and receive this award because you put us there. We think Logos is the most deserving technology and hope you agree.
(Don't worry…this is all on the up and up. The awards committee asked us to get the word out to our constituents, asking you to vote.)
If you can take a moment to vote for Logos 3 (it doesn't matter where you live), here's how:
You will have to create an account at the awards site.
When the page refreshes you'll see how we're doing!
Thanks for being such great users…your passion for the product and for Bible study keeps us going!