Arecord number of customers took advantage of the insanely great "Library Builder" Christmas special this year and added 330+ books to their library in one fell swoop, so we're taking a look at how to maximize the value of those new books. Even if you don't own the Library Builderproduct, this series will help you get the most from the books in your electronic library.
Part 1 introduced some tools and techniques for exploring your new books, while Part 2 focused on commentaries.
This post will review some of the other categories ofbooks that are part of Library Builder, introduce some individual titles, and show where to look for them in your digital library.
Illustrations
Pastors and teachers love illustrations…readers and listeners love them, too. They're the raisins in the toast, the strawberries in the fruit salad.
Library Builder adds a new bookof illustrations: Illustrations for Biblical Preaching
, with fresh material to help you enliven your teaching or your own study.
Your digital library knows that this is a book of illustrations so it will automatically show up in the Illustrations section of Passage Guide. When you run Passage Guide, the system figures out all the topics related to your passage, then scours your books of illustrations to find illustrations on those topics. Like magic.
Music
Library Builder adds five new books on music:
101 Hymn Stories
101 More Hymn Stories
Hymns and Scripture Selection Guide
Hymns of Ter Steegen, Suso, and Others
The Psalms and Hymns of Isaac Watts
You're probably familiar with the 101 Hymn Stories
books that give the history of various hymns and their composers, but some of the others may be new to you.
Hymn and Scripture Selection Guide
is great because, while it does not contain hymn texts,each hymn is tagged with numerous Bible references. That increases the odds you'll find a song relating tothe Bible passage you're studying or preaching!
Hymns of Ter Steegen, Suso, and Others
and The Psalms and Hymns of Isaac Watts
open a window on the poetical voice of those who contributed greatly to the hymnody of the Christian church in bygone days. Sometimes one of these classic hymns, read as a poem, is just the thing to illustrate a biblical truth.
Again, Logos Bible Software knows that these are books dealing with music, so they show up in the Music section of Passage Guide. When you run Passage Guide on a passage of Scripture, the guide finds any hymns or songs that relate to the passage you're studying.

What you see above are the Music results I get for a Passage Guide on Psalm 4:8, "In peace I will both lie down and sleep; for you alone, O Lord, make me dwell in safety." (ESV)
Books on Prayer
Library Builder adds quite a number of books on prayer. It's easy to locate them all in your library: just click My Library, arrange by subject, then type prayer.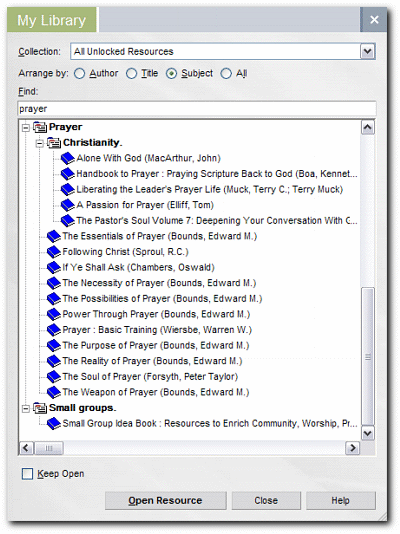 You'll notice a bunch of books by E.M. Bounds, one by Tom Elliff, one by P.T. Forsyth, and one by Oswald Chambers…all new with Library Builder.
Because prayer is such a vital discipline in the Christian's life, Logos Bible Software also includes a feature right on the homepage that introduces you to books on prayer within your library. Your new books on prayer show up here automatically.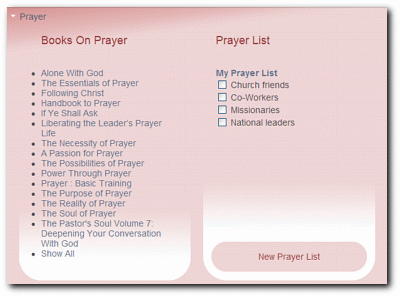 Just click any of the links in the list to open that book to its table of contents and begin exploring.
(Note: the Prayer section of the Logos Bible Software homepage can be turned off or on via the "Customize View" link at the top of the homepage. The Prayer section is only available if you have the Personal Bible Study Addin, included with Logos Bible Software base libraries or available as a separate purchase but not included with Library Builder.)
Devotionals
Devotionals, structured around daily readings and meditations, are a great way to get into the Word every day. The Devotions section on the Logos Bible Software homepage makes it easy to start every day with the devotional of your choice.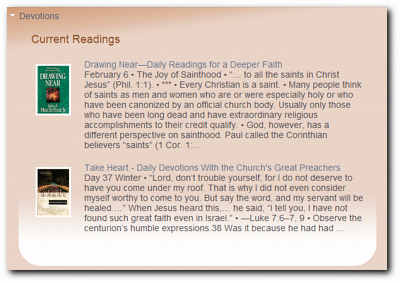 Here I've selected two of the devotionals that are new in Library Builder.
Take Heart
is a very cool concept—it offers daily snippets from sermons by great preachers of the past such as C.H. Spurgeon, G.Campbell Morgan, and John Ker. As the editor writes in the preface, "These preached words are a part of our Christian heritage, and you will find the power of God in them still. I want to preserve them not because they are old but because they are true. It is our loss if we allow this part of our heritage to crumble to dust, forgotten, on out-of-the-way shelves."
Drawing Near
by John MacArthur reflects that teacher's emphasis on in-depth Bible exposition study. As MacArthur states in the introduction: "As you use this book daily, you will learn how to approach Scripture on your own, developing the study skills you need to open up the Bible and discover its rich and marvelous truths for yourself. Such repeated exposure to God's Word trains you to think Biblically, and that's what ultimately makes a difference in your spiritual life."
ChoosingDevotionals for Your Homepage
To choose the devotional that gets displayed on your homepage every day, click the Customize View link at the top right corner of the Logos homepage.

Then scroll down to the Devotions section and choose as many of the devotionals as you'd like to see on the homepage every day. Put a check in the boxes for those you choose, make sure there's a check next to "Devotions," then scroll back up to the top of the page and click Save Changes.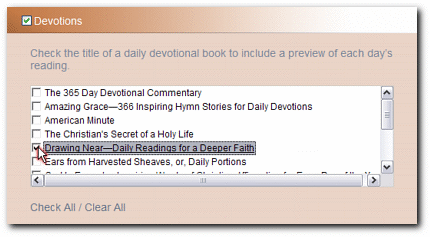 Note: the version of Take Heart that shipped on the Library Builder disc will not show up in the list of devotions; in order to make this devotional show up as an option, download an updated version of the book. Here's how: close Libronix DLS, then click this link and choose to save the file to your resources folder (for most users, C:\Program Files\Libronix DLS\Resources). When prompted, overwrite the file that's already there.
Looking Ahead…
In the next installment of this series, we'll take a look at some of the books that don't fall into any of the categories we've covered thus far. You'll definitely want totake some steps to ensure you'reincorporating these "ordinary" books into your Bible study workflow.