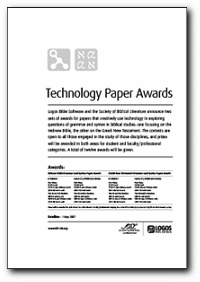 Way back in late September, we announced that Logos Bible Software was partnering with the Society of Biblical Literature to give away nearly $18,000 inawards for papers that use the syntax tools in Logos 3 to advance biblical scholarship.
The May 1 contest deadline is drawing near so consider this an encouragement, an exhortation, a friendly nudge to get your paper done and submitted.
Full contest details are at the SBL site.
Need some inspiration for things to write about? Try trollingthe dozens of past posts on syntax here at the Logos Blog.You may also want to spend some time with the syntax videos we've posted at Logos.com.
Some of the videos hosted on that page are from a CD-ROM we put together for the ETS/SBL annual meetings in November. Now that entire disccontaining 33 Syntax Demonstrations can be ordered for a nominal fee from Logos.com.
So polish up (or begin writing) your paper and send it in! We look forward to all the great new research that will be produced as part of this contest!