Yep, that post title is correct.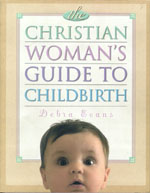 Lord willing, my wife Amy is due to deliver our first child in mid-May.** (Insert applause here, Amy really is fantastic!) As many first-time parents-to-be, we're reading a lot and researching the whole process.
We've got books on all sorts of stuff, which is par for the course for this bibliophile Daddy-to-be.
One very helpful book has been The Christian Woman's Guide to Childbirth by Debra Evans and Ingrid Trobisch. It was published by Crossway Books (which is where the link goes) but it is unfortunately out of print, so you'll have to find a used copy somewhere. We found ours on Amazon for five bucks.
One of the things that Amy and I love about The Christian Woman's Guide to Childbirth is that it has a great Scripture reference index, and each chapter also lists a number of references having to do, in one way or another, with the basic content or thoughts in the chapter. Good stuff for focusing our minds on our Lord and Saviour and his gracious provision and comfort through the traumatic and uncertain (yet joyous!) time before us.
So to take those references into the hospital with us, we're starting to use the Verse List feature in Logos Bible Software. We're making a verse list for each topic, then we'll just print them out so we'll have ready-reference during labor and delivery.
How do you make a verse list, you ask?
File | New
Select Verse List from the New Document dialog
Click Add button. Use the dialog or point to proper source.
Voila! Use the Preferences button to give the file a name, but the system will prompt for that if you close the document without providing a name.
Printing is pretty easy too. Just open the verse list (either through
File | Open
or through the Open Document button on the toolbar), then export or print.
---
** We've decided to be surprised, so we don't know the sex of the baby and don't plan on finding out before the big day! At the time of this post, Mom thinks it's a boy and Dad thinks it's a girl. Either way, we're greatly blessed!