Guest bloggers Johnny Cisneros and Steve Runge pull back the curtain on a new addin coming soon from the Logos "skunk works."
Many of us know that we have the resources within Logos to do good exegesis. However, it is easy to be overwhelmed by the process. You may not know where to start or where to end a study. How can you make sure that you've made the most of the resources available to you within your digital library? A new feature will assist users, veteran and new alike, with just that.
The Study Tools addin will guide you through the process of Bible study from exegesis to application. This helpful addin ties together many of the powerful tools in Logos into one convenient template. Such a template provides an organized structure to guide you through each step of exegesis. It saves you time by creating links to a variety of Bible tools pertaining to each one of the steps. It conveniently provides you with the ability to make your own notes as you go. The template is especially useful for sermon preparation. Outlines can be prepared under the 'Application' section of the template.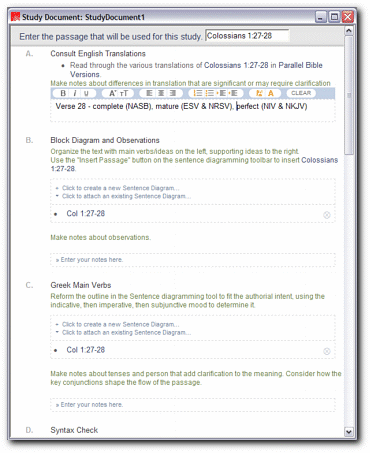 Screenshot of a study document (beta version, subject to change)
The Study Tools addin offers something for everyone. Existing users will find a new way to utilize the powerful resources within Logos in their study and sermon preparation. New users will find a way to become familiar with the many resources available in Logos.
Update 2/13 – If you can't wait to try out the addin, you can download a beta version that unlocks the Study Tools addin for a limited time. Once you have it installed, create a new study document via the File | New menu. Please route your feedback on the addin to the beta newsgroup.