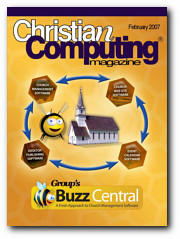 The latest issue of Christian Computing Magazine includes two articles pertinent to Logos Bible Software.
The first is a review of Personal Book Builder by writer, editor and cartoonistRob Suggs, who was the subject of a recent post here on the Logos Blog.
In the second article, a Logos user offers tips on how he uses Bible software in the task of exegesis—including the 12-step pattern he follows when preparing a sermon. As we hinted in a another recent blog post, Logos Bible Software will soon include a built-in tool to help structure your Bible study workflow using a variety of study methodologies.
Without further ado, here are leads for the two CCMag articles.
Special Feature – Bible Software's Best Kept Secret, Libronix Book Builder
by Rob Suggs
It happened sometime in the late nineties. As a Christian magazine editor, I attended a training session for a Bible study software program called Logos. Morris Proctor, our teacher, demonstrated the many pleasures of the Word Made Electronic. The only problem was that, as a publishing firm, we had an office full of Apple equipment, and Logos for the Mac was still on the drawing board.
Read the entire article… (PDF
)
Doing Good Digital Exegesis
Higher Power with Kevin
by Kevin A. Purcell
In the book and paper world, biblical exegesis is a time consuming, but useful task. Without it, you cannot faithfully preach the Word of God. A computer and Bible Study software will help you do high-quality, biblical exegesis in far less time than it would using stacks of books and a legal pad. And your study will be more advanced as you utilize powerful original language tools, even if you don't know Greek or Hebrew.
Read the entire article… (PDF
)