Today's guest blogger is Mark VanDyke, who works in marketing at Logos.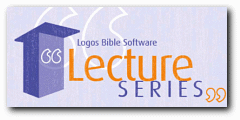 Do you ever miss your college or seminary days, when you went from class to class hearing lectures on a seemingly endless array of topics?
Now we are sharing access to some of North America's top scholars through a new community event called the Logos Bible Software Lecture Series.
These presentations will all be free and open to the public, and are designed to be interesting and accessible to a broad audience.
The inaugural Lecture Series event will feature widely acclaimed speaker, Dr. Peter Flint of the Dead Sea Scrolls Institute at Trinity Western University. Dr. Flint's lecture will focus on how the scrolls have affected modern biblical translation. The event will be held at Bellingham's iconic Mount Baker Theatre at
7:00 PM on Wednesday, January 10.
We expect to host a lecture every couple of months and prospective topics range from ancient text analyses to cutting-edge technologies that can be applied to biblical studies.
One of the reasons we're excited about the event is that we always look forward to meeting our customers. It gives us a chance to learn about our users' interests and events like this also demonstrate our dedication at Logos for helping people understand the Bible in new and exciting ways.