Every culture tells stories about itself. Stories that give answers to the Big Questions: where did we come from, who are we, where are we going? Stories that inspire and motivate; stories that enslave and perpetuate harmful attitudes. Some would say that without shared stories there's really no "we" to talk about.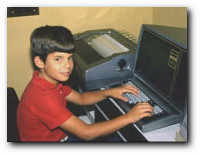 Companies like Logos also tell culture-creating stories that define who we are and help delineate our collective purpose. But any period of rapid growth brings the attendant risk that the company's culture will be lost, or at least lost on the new hires. This risk is especially acute when the new hires will be working thousands of miles away from the home office.
Sharing the Logos Story
Since we won't be flying the new Field Sales team to Bellingham for every chili cookoff or field trip to the Dead Sea Scrolls—and it will be a little harder for Bob to take the new reps out for coffee—we're recording stories from various Logos team members to share with the new hires. My guess is that some of these stories will be new for many of us who work right here in Bellingham, too.
We'd also like to share some of these stories with you, so I'll be posting a series of video interviews over the coming weeks that help tell the Logos story.
Interview with Bob Pritchett
First up in the series is an interview with Bob Pritchett, Logos co-founder, president and CEO. We'll "begin at the beginning" with Bob answering a question about how he first got into computers and Bible software. You'll hear Bob describe what it was like to work with early electronic Bibles, how he swapped his first search engine for Bible texts, and more…
The interviewer is Scott Lindsey, director of ministry relations, and Dale Pritchett is behind the camera.
Note: All videos are in Windows Media format. Mac users may need to download the free Flip4Mac plugin for playback within QuickTime.