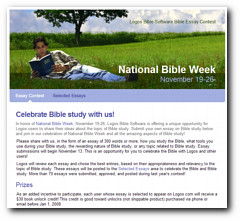 In honor of National Bible Week, which is this week, we're sponsoring an essay contest on Logos.com. You are invited to write and submit a brief essay on Bible study. If we display the essay on the site, you'll receive a $30 book unlock credit. The sign-up form is here.
During last year's contest, more than 70 essays were submitted, approved, and posted, with a nice variety of themes and perspectives represented. You can read last year's essays on the Selected Essays page.
As you reflect on how the Bible has shaped your life and give thanks for the privilege and ready accessibility of Bible study materials,I encourage you to put your thoughts into writing and share them with us!