I'm in a small group home Bible study, and we're studying Colossians. My Father-in-Law leads the study, but he and Mom were on a short vacation last week so that means I got to sit in the hotseat. Our text was Col 2.1-7.
So Col 2.2 was one of the verses we looked at. Here it is, in the ESV:
that their hearts may be encouraged, being knit together in love, to reach all the riches of full assurance of understanding and the knowledge of God's mystery, which is Christ, (Col 2:2, ESV)
The text has the words "God's mystery". One of the first things I wondered about had to do with what other types of "mysteries" are mentioned in the New Testament. In OpenText.org-speak, what this means is that I wanted to find what sorts of things qualify the word translated "mystery" (μυστήριον).
I've detailed this sort of search before (see blog post Syntax Search Example: What "Qualifies" another Word?), complete with video.
That's cool and all … but what if I didn't want to go to the trouble of creating a syntax search? Well, I could just run the Bible Word Study (BWS) report. One of the Grammatical Relationships examined for the OpenText.org Syntactically Annotated Greek New Testament involves qualifiers.
Specifically, it is the "Words and phrases used to further qualify (word)" relationship.
So I just ran the BWS by right-clicking μυστήριον and selecting the Bible Word Study option. Of course, if I was in a reverse interlinear, I could've just right-clicked. Here's the list I retrieved: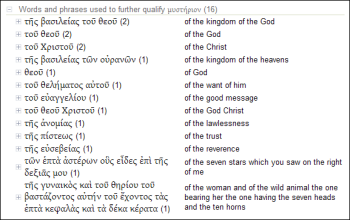 Now, assuming you have Logos 3 and the syntax databases, you try it. Here's my question for you: What kinds of "Kingdoms" are mentioned in the New Testament?
Go to Mt 13.11 in your ESV New Testament Reverse Interlinear, which mentions "the mystery of the kingdom of heaven", right-click on "kingdom", and run the right-click option for Bible Word Study.
When it's done, scroll down to the Words and phrases used to further qualify βασιλεία. It should look something like this:

Watch out … now you're using syntax in your study of the New Testament!