We've devoted a lot of words on this blog to persuading you to upgrade to Logos Bible Software 3. While it's true that many of the features we talk about most often (reverse interlinear Bibles, syntactically tagged Bibles)are only available with a paid upgrade it's also the case that we're giving away a ton of amazing functionality at no cost! That's right…
FREE STUFF
One of the cool, new features in Logos 3 that you can take advantage of right now, just by downloading the free update, is the SermonCentral.com search built into Passage Guide. This is just one free feature among many, but the one I want to highlight today.
Caveat: This feature is only free if you already own a product, such as any base collection (e.g., Bible Study Library),that comes with the Logos Bible Software homepage.
What is the SermonCentral.com search?
Logos has partnered with SermonCentral, a website that offers a massive database of sermons uploaded by users of the site. In Logos 3, when you enter a passage—say 2 Corinthians 9:1-5—and click "Go!" the Passage Guide report includes not only links to commentaries, dictionaries, maps, and reports…but it also shows you links to freely available sermons at SermonCentral!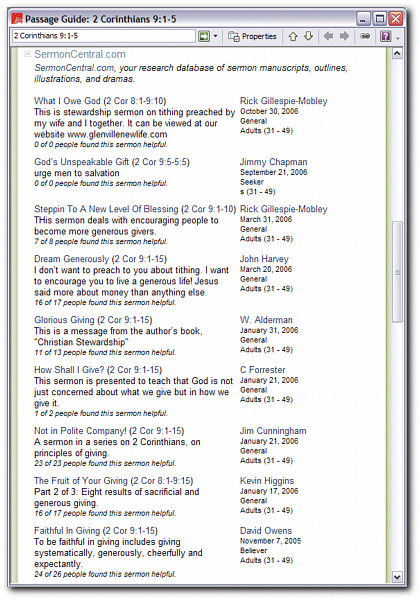 These sermons were preached by people just like you—if you're a pastor—then uploaded to the SermonCentral database to share with others. They're great for inspiration, to get some ideas for organizing your material, gleaning illustrations, and to see how other preachers have treated the same material you're working through.
(We encourage responsible use of others' sermons, including citing sources where appropriate.For an excellent and practicaldiscussion ofthese issues, see the article Plagiarism in the Pulpit from Preaching magazine.)
SermonCentral Results in Passage Guide
Let's take a closer look at one of the SermonCentral results that shows up in Passage Guide.

On the left you see the sermon title, the Scripture passage that it covers, a brief description of the sermon, and arating that indicates how many peoplefound the sermon to be helpful.
On the right is the contributor, date the sermon was preached, intended audience type(e.g., Believer, Seeker, etc.), and intended audience age range. Obviously, most sermons are preached to the entire congregation so many results will show "General, Adults".
Blue text indicates links; clicking the sermon title opens SermonCentral to that sermon, clicking the Bible passage opens your preferred Bible to the beginning of that range, and clicking the contributor name opens a page at SermonCentral.com giving some information about the contributor such as denominational affiliation, church name, education, family, and other biographical details.
Click here to see the page that would open at SermonCentral.com if you clicked the linkto the sermon displayed above.
So here you have a huge source of additional content, integrated right into your normal workflow within Logos Bible Software. Just a click and you're looking at instantly relevant material that you didn't pay a red cent to acquire!
Go Pro!
As with any useful, free service there's a way to get even more from SermonCentral.com by upgrading to a paid account. Upgrading to SermonCentral.com PRO provides a whole slew of additional features and benefits. They even offer a free 30-day trial to the PRO version so you can check it all out before committing the funds.
For details on updating Logos for free, anda comparison chart showing all you get with a SermonCentral PRO subscription, see our special SermonCentral page at Logos.com.
---
You're reading a post on the Logos Blog, which is updated (nearly) every weekday with news, how-to's, and other information pertinent to Logos Bible Software. Did you know that you can "subscribe" to this blog and receive an alert every time we add new content? It's super easy…just click one of the links below to get started or read our overview of blog technology.