Remember your excitement and anticipation the first time you used Logos Bible Software? Running your first Passage Guide and seeing all the books that you could open with just a click. It was like someone cut the covers from all those books and set the information free.
Deep and thorough Bible study suddenly seemed that much more attainable.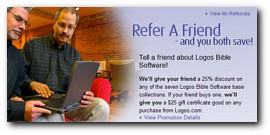 Now you can help your friends, co-workers, relatives, congregation, or pastor experience that same joy. The new Refer a Friend program from Logos (previously introduced here) is the perfect way to spread the word about Logos Bible Software, while ensuring that your friend gets the best price possible on the Logos collections. And you receive a little something for your trouble.
So take a moment to think about the people you know who would benefit from a tool like Logos Bible Software, grab your digital address book, and head to: https://www.logos.com/referafriend
The people you refer get 25% off any of the seven Logos base collections…and you get a $25 gift certificate (good on any purchase at Logos.com) for each qualified referral who buys a base collection.
It's a win-win-win.
If you love using Logos Bible Software and want your friends and family members to get the best possible discount on the world's greatest tool for Bible study…this program is built for you!
https://www.logos.com/referafriend