Logos and the Society of Biblical Literature announced an academic paper contest last week. We need your help to get the word out about this contest!
If you're a college faculty member or student, please consider printing and posting some flyers on the appropriate bulletin boards at your school. (Remember to get permission first if the school's policies require it.)
The flyer comes in two sizes: 8 ½ x 11 or 13 x 19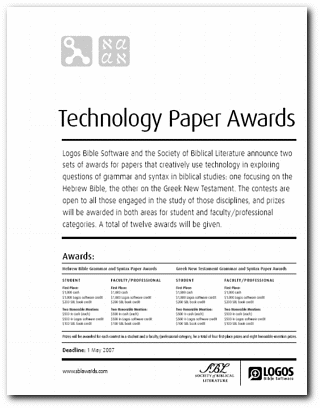 Download flyer: 8 ½ x 11 | 13 x 19
As you can see, the flyer is grayscale (no color printer needed), gives basic details on the contest, and points people to the URL:
www.sblawards.com
for more information.
Thanks for your help!