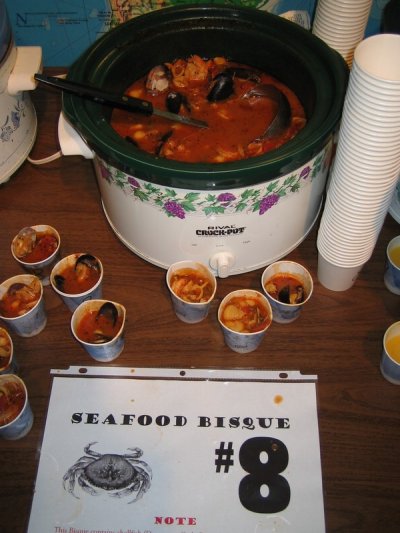 Chuck Brannan, my Dad and perennial soup fan, can't be kept away from the soup cookoff. But that's OK because he brings some mighty fine soup along with him when he comes.
This year, his Spicy Seafood Bisque placed on top. And count yourself lucky, he agreed to share his recipe. So here it is!
Chuck's Spicy Seafood Bisque
1/2 c chopped sweet onion
1/2 c chopped celery
2 tbsp butter
4 c chicken broth
3 c tomato juice
1 14 oz. can diced tomatoes undrained (I used garlic and onion flavored)
1 tbsp Worcestershire sauce
1 tsp Old Bay Seafood seasoning
1 tsp dried oregano
1 tsp garlic powder
1/2 to 1 tsp hot pepper sauce (to taste)
1/4 to 1/2 tsp cayenne pepper (to taste)
1 bay leaf
1/2 c small shell pasta (may use any small pasta)
1 lb uncooked med. shrimp (31-40 count)
2 6 oz cans crab meat or 12 oz dungeness crab meat drained, flaked, cartilage removed
1 lb white fish (such as true cod or halibut)
1 lb mussels in shell
1 lb small steamer clams in shell (such as Manila clams)

In a large sauce pan, saute onion and celery in butter until tender. Add broth, tomato juice, tomatoes, Worchestershire sauce and all seasonings. Bring to a boil, cover and simmer for 20 min.

Discard bay leaf, add pasta, cook uncovered until tender. Add shrimp, crab, and white fish. Cook until shrimp are pink. Add mussels and clams, cook until shells open. Remove from heat and serve with warm garlic bread. Yield 10-12 servings.