In Logos Bible Software, context-sensitive help is available from dialogs or reports just by pressing the help button.
But sometimes you might just want to read the manual. And you can do that too, because the manual is a book in the system.
That's right. Just go to My Library. Type in "help manual". Hit enter or click on the title.
This is what is known as a non-scrolling book. It is a series of articles, each article is a separate "scrolling" region of text. Sort of like a series of web pages.
On books like this, it is handy to open up the Table of Contents Pane in the book window. Like below.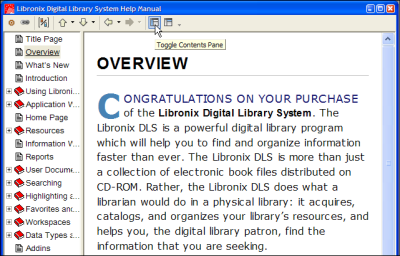 Just click the button, and the TOC Pane opens up. You can navigate the book this way. Or search it with the LDLS search engine. Set bookmarks so you can remember where you left off. It's your choice.
Another Hint: Try the Locator Pane by clicking the button next to the TOC Pane button.