Compete for cash, free software and free books by writing an academic paper that uses the syntax tools and resources in Logos Bible Software 3 to make a contribution to biblical studies!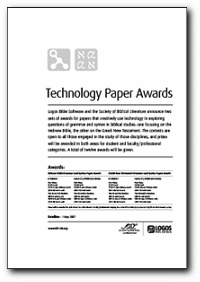 Logos has partnered with the Society of Biblical Literature to sponsor awards for papers that creatively use technology in exploring questions of grammar and syntax in biblical studies. The contest is open to anyone; student papers will be judged and awarded separately.
Pose a significant question, use the syntactically tagged resources in Logos 3 to address the question, and then write up a paper clearly communicating your methods and results.
One set of awards focuses on the Hebrew Bible and the other on the Greek New Testament. First place winners will receive $1,000 cash, $1,000 Logos software credit, and a $200 SBL book credit. The awards will total $8,000 in cash, $8,000 in software, and $1,600 in print publications.
Two review panels of SBL members will determine the winners of the awards, and all reviews will be blind (personal information is stripped from papers before review).
Complete details are available from the official contest page at the SBL website.