by guest blogger Erland Injerd, Logos web developer
Great deals make the world of commerce go 'round. You know. Garage sales, coupons, discounts, gift certificates, last-day sales, crazy competitions—there's even the mythos around the "golfing deal": making that killer sale on the golf course.
When you can tell a friend about a great deal, save them some cash, and get a reward yourself…well, it doesn't get much better than that! And since Logos Bible Software 3 is such a great tool for getting deeper into the Word, wouldn't it be nice to help your friends, family, pastor or parishioners share in the joy of better Bible study?
Now you can do exactly that. We've put together a great new system where you can refer a friend and get a gift certificate for your next purchase from Logos.com. Plus, your friend gets a full 25% discount on whatever base collection he or she buys! Talk about a good deal.
Refer Your Friends in 3 Easy Steps
So how does it work? Our three step process is quick and easy. Just go to www.logos.com/referafriend, and follow along (keep in mind that you need to own one of our base collections, and you must be logged into the website):
First, enter your friend's email and first/last name (if you don't want to enter your friend's last name, that's fine). We won't sell their address to anyone; we'll just send them two messages that you can review.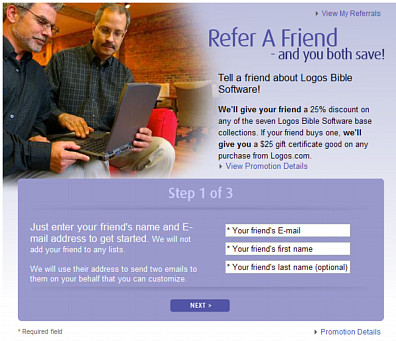 Click "Next" to go to step two. Here, you can edit a personalized email to your friend. We've filled in some suggested text for you – if you want to leave the email the way it is and just continue, that's great too. You'll notice that your friend's name and your name are already in the message, and it even tells your friend that a second, fancy email will be on its way momentarily.
On the third (and last) step, you get to choose the collection that you want to suggest to your friend. If you love your Bible Study Library, but you think your pastor friend may need a slightly more robust package, you can recommend the Scholar's Library or even the Scholar's Library: Gold to them—it's up to you. Just click the round button next to the package you want, and the special email from Logos will give your friend specific information on that product.
Want to make sure that what gets sent to your friend looks sharp? At the bottom of the third step, you'll see a Preview button. Just click that (make sure your popup blocker is off!), and a handy popup shows you both emails that will be sent. Once you're done previewing the emails (click the Close button at the bottom), you can click the Back button and edit your personal email, or you can hit the Send button, and the emails are off! Just sit back and wait for your friends to tell you how pleased they are with Logos Bible Software 3.

If you want to check the people you've referred, there's a little "View My Referrals" link to the right of the Refer A Friend title. Click that, and you'll see quick statistics on all of your pending and completed referrals.
Of course, some friends can take extra prompting to get on the ball. We're all busy people, after all.
If you've sent off a referral and your friend hasn't purchased a base collection after a week, the My Referrals screen will give you a little "Send Again" link in the right-hand column. Just click that link, and it will run through the referral process again, giving you the chance to send them a reminder email.
Redeeming Your Gift Certificate
So you send the email, your friend grabs a Logos Bible Software base collection, and you have a new coupon to use! Where do you see it? The easiest way is to just check your email (the email address you use to login to Logos.com). The very moment your friend orders a base collection from Logos.com, an email will be winging its way to your inbox with a gift certificate to you can use toward another Logos product. You can also go to your My Referrals screen (that little link on the top-right, remember?), where it will show you your personal gift certificate codes in the far right column.
And that's it! A lot of functionality in an easy-to-use package—sort of like Logos Bible Software 3 (*waves at the developers*). But don't take my word for it. Head over to www.logos.com/referafriend right now, and start telling your friends about the real deals around here.