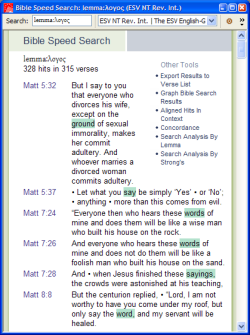 One thing I use the Bible Speed Search feature for is to do quick searches of the New Testament for a Greek word, but display my hits in English.
Huh?
Yes, I type in a Greek lemma, but the results are provided in English with the proper English word highlighted. Rather than explain it all, I figured I'd put a quick video together to show you.
Note in the video that I use the F2 key to cycle between English, Hebrew and Greek keyboards (in that order) in order to type in English and Greek on the same line. I probably should've mentioned that, but it's too late now.
Remember, you can do this with right-clicks too. See this previous entry for more details (with a video).