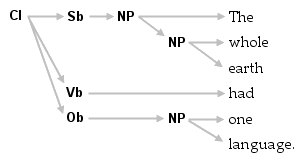 If you've read this blog for awhile, you may be asking yourself, "Why Syntax?" That is, why is it such a big deal in Logos Bible Software 3?
We've recently posted an article on our web site by Dr. Mike Heiser, who serves as Logos' Academic Editor, that provides some answers to this question.
And he does it in an easy-to-read way. Even if your first question is "What is syntax?", you'll benefit from reading Dr. Heiser's article. So check it out!