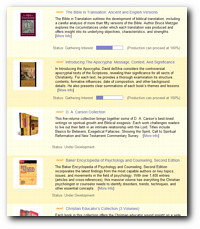 If you've been a Logos customer for very long, you've probably noticed that something has changed during the month of June. We used to post three or four new prepub titles per month, on average…this month we've already posted 11…with 4 new titles posted last week alone!
With some 2,000 books as part of the Continuum license, plus all the other contracts and books we have in the pipeline, we've had to ratchet things up a notch. A new guy in the marketing department, Zack Rock, is doing a great job of researching the books and crafting descriptions for the prepub page. He's been cranking them out at a pace of 1-2 titles per day…so if you've fallen behind, here's a quick update:
What's New on the Prepub Page
Bible Study Helps

Books for Educators & Counselors
Greek Resources
Shipping Soon
This is your last chance to get a prepublication discount on the following titles. Once they ship, the price will go up so place your pre-order right away.
International Theological Commentary (27 vols)This commentary emphasizes the theology of the Old Testament, combining excellence in scholarship with relevant insight for today's church. The Last Chance email already went out; we should be getting this back from replication soon, and will ship shortly after the Independence Day holiday.

Ryrie's Basic Theology
A clear and understandable systematic theology from a major figure in evangelicalism. Yes, this is the same guy who edited the widely-used Ryrie Study Bible. This title went through production very quickly. First posted to the prepub page May 25, it is due to ship around July 10.
Whew! That's a lot and it's just the new stuff…visit the
prepub page
to see a complete listing of what's available at a prepub discount and take advantage of the opportunity to expand your library while saving some dough!
More Ways to Stay Abreast of the Juggernaut

NewsWire – email newsletter with the latest prepubs, sales, and more!

Prepub RSS Feed – keep up with the latest prepubs right in your feed reader, My Yahoo! homepage, Bloglines, etc.