A new feature in Logos Bible Software 3 lets you read Logos-related blog posts right inside Libronix DLS!
Of course, this feature is only as cool as the content that is delivered…and we're delivering some pretty cool content, indeed.
Every day of the week (except Sunday), you will see at least one new blog post at the bottom of your Logos Bible Software homepage. Posts are pulled from either the Logos Bible Software Blog (you're reading that right now) or from a brand new blog that offers tips and tricks for getting the most out of your Logos software!
Morris Proctor's Tips & Tricks Blog
Every Wednesday and Saturday, that new blog, called Morris Proctor's Tips & Tricks, provides a new tip for maximizing your efficiency and skill in using Logos Bible Software 3.
Morris Proctor, authorized trainer for Logos Bible Software, writes all the posts for the Tips & Tricks blog. Morris runs the informative, top-notch Camp Logos seminars all around the country but found time in his schedule to author these free tips which will help you get the most out of your investment in Logos Bible Software.
If you enjoy the biweekly Tips, be sure to check out the calendar of upcoming Camp Logos training events and register to attend the one nearest you! I attended Camp Logos a few months after starting at Logos in 2002 and it was time well spent—I give it the highest possible recommendation.
How to Read Blogs in Logos Bible Software
To read the latest posts from the Tips & Tricks Blog and Logos Blog, just open Logos Bible Software 3 (What, you haven't already upgraded?) and scroll down the homepage until you see the "Blogs" section header. Below that you will see previews of the three most recent posts from the Logos Blog and three from the Tips & Tricks blog.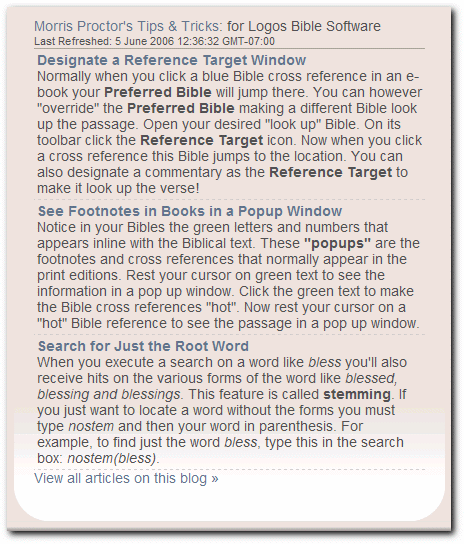 If this section is not already expanded, click on the word "Blogs" or the triangle to expand it.
If you don't see the Blogs section header at all, scroll back up to the top of the Logos Bible Software homepage, click Customize View (located just below the date), then scroll down and make sure all the checkboxes under Blogs are checked. Save Changes and you should now see the Blogs section on the homepage.
Be sure to scroll down the homepage every time you fire up the software, to read the latest tips and news from and about Logos Bible Software! And be sure to thank Morris when you see him at a
Camp Logos
.