This is the sixth post in my on-going series on the Bible Word Study (BWS) report.
This post will look into the Lemma Report sections of the BWS report.
To refresh our collective memories, we're looking at 1Th 2.16. Here it is in the reverse interlinear, with the phrase in question marked up using new Visual Markup features.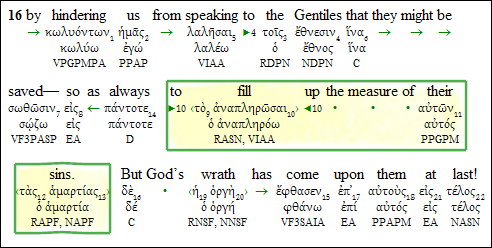 The Lemma Report sections have to do with understanding how the study word (ἀναπληρόω) is used both inside of the Greek New Testament and in other Greek literature, like the LXX (Greek Old Testament) and the Works of Philo.

The Lemma Report sections provide concordances of the New Testament and other Greek corpora sorted by morphological criteria. This allows one to see inflected forms grouped together so they can be examined further. Lemma report sections have the following parts:

analyzed resource title:This is the title of the resource as you'd find it in My Library. If you click it, it will open the resource.
analyzed word:This is the lexical form (a.k.a. dictionary form or lemma) of the word under study.
partial parsing:This is a partial parsing of the word. It also shows the degree of sorting. If you hover your mouse over any of the terms (e.g. 'aorist') a short definition will display. Clicking on the term will look up the definition in the Glossary of Morpho-Syntactic Terms.
inflected form in verse:This is the form (or forms) of the word in the verses listed below.
Bible reference:The reference of the listed Greek verse.
verse in Greek:This is the whole verse in which the word occurs. Note that the specific word is bold. If you click on the word, you'll open the analyzed resource at the word instance in question.
This gives a guide to examining usage of the study word in the New Testament. But that's not all — if you have the Greek text of other supported corpora you can do the same report in those texts as well.
Currently supported corpora include the LXX (Greek translation of the Hebrew Bible) and the Works of Philo. Here's an example from Philo: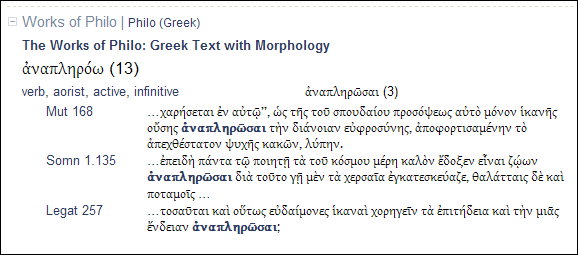 Some corpora that will be added in the future are already listed in the interface. These include Josephus in Greek, the Greek Pseudepigrapha, and the Apostolic Fathers in Greek. While listed in the interface, there isn't much that can be done with them at present.
Well … unless you've got a way-early development-only copy on your box like I do:
(sorry, couldn't resist!)
Next up: Properties. That may take a few posts to cover.