One of the cool web features we've built for the roll-out of Logos Bible Software 3 is an online upgrade tool that gives personalized discounts based on your customer account. The tool reads your licenses, shows all the upgrade paths available to you, finds the discounts you are eligible for, and posts a chart showing all the new books and resources you'll get with your upgrade.
Here's how it works…
Visit www.logos.com/upgrade and enter your Libronix Customer ID. If you're like most users, this is the email address you used to activate your first Libronix-based product. If you're like me and can't remember that far in the past, you can either guess until you get it right or click the Help link on the upgrade page for directions on how to retrieve your Customer ID.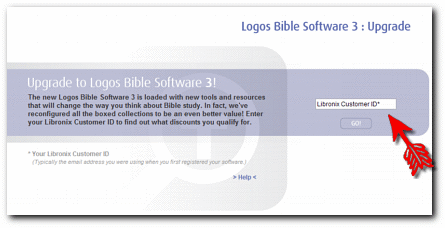 So I just "Enter Customer ID, click Go!" (sound familiar?) and behind the scenes, the upgrader tool finds my licenses in the Libronix activation database, calculates all my upgrade options and pricing, and presents me with this fine-looking page.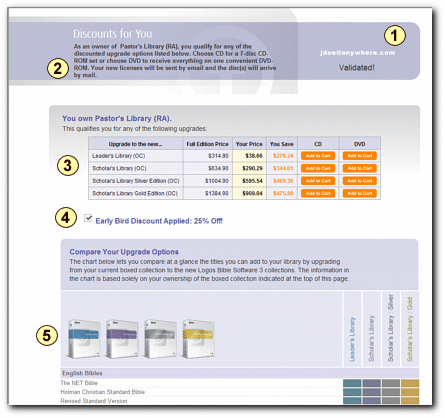 Let's go through this item by item…
Validation of my Libronix Customer ID. Everyone needs some validation from time to time.
This text lets me know which Logos Bible Software Series X base package is licensed to me (in my case, Pastor's Library – RA). My upgrade options are calculated from my ownership of this collection. I'm also provided with a few details about the upgrade process. Since I have a DVD drive, I will definitely want to choose the DVD option as it makes installation more convenient (and it holds more rebuilt resources!) than the 7 CD-ROM package.
The product chart shows all the upgrade options available to me and how much I'm saving. Sweet!
A list of the discounts I qualify for (they have already been applied to the prices above). The additional 25% off the upgrade price is very nice. And a limited time offer, by the way.
Chart showing the new books and addin modules I can add to my library by upgrading to each of the available collections. This is just the top of the chart…it goes on and on.
From here, I just decide which collection I want to upgrade to, add the DVD version to my cart, and check out. My new licenses will be sent by email within seconds; the discs required to install the new Logos Bible Software 3 engine, books, addins, and data files will come as fast as the good delivery people find my house. I can even choose UPS Next Day Air Early AM if I just can't wait!
As you can see, we've tried to pull together on one page everything you need for a smooth, easy, and dare I say bargain-priced upgrade experience. Not convinced? Here's one last very cool feature of the upgrade page…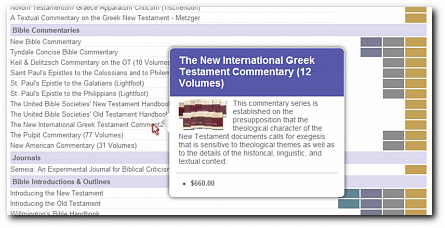 As you hover the mouse pointer over each title in the chart (with a few exceptions) you'll see a little preview window that shows a picture of the bookcover and a brief blurb about its contents. You'll also see the retail price for the book or product.
This one happens to be New International Greek Testament Commentary Series which has a retail price of $660.00 but is included when you upgrade to the new Scholar's Library: Gold!
We added these preview windows to make it easier than ever for customers to get a handle on the contents of a collection…and see just how much value is inside!
If you haven't done so already, give the upgrade tool a whirl and see what upgrade options you qualify for and how much you save!