A few days back, I blogged about the Bible Word Study report. There I talked about how to run the Bible Word Study report on the underlying Greek word from an English text. In that post, we started the process of running a Bible Word Study on the word translated "to fill up the measure of" in the ESV, ἀναπληρόω. For a refresher, here's the text of 1Th 2.16 in the ESV English-Greek Reverse Interlinear New Testament: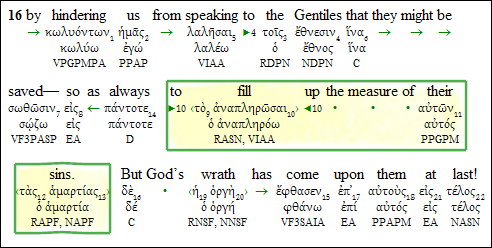 The next posts in this series will walk through each of the major sections of the Bible Word Study report. Today we start with the Report header section. I know I said last time that we'd dig into KeyLinks, but there's so much happening in just the report header that it merits its own discussion.
This is more than just an attractive header, it conveys a lot of information and leads to more information that you might not necessarily think to examine. Check out the image below to see the different parts of the header.
(Yes, we'll get into the Properties and the other icons on the toolbar in later posts)
In the above image you can see five primary pieces that form the header. Some of this content is static, other content is dynamic. Portions of the header include:
Lexical Form
Pronunciation (optional, not installed on the machine I'm using for this post)
Gloss from Preferred KeyLink
Horizontal Ellipsis (…) indicating further glosses are available
Gloss Source
Lemma Density Chart, also known as a sparkline
I'll discuss each of these in turn.