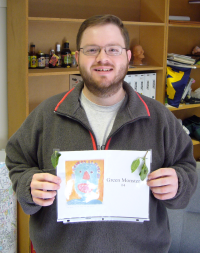 We mentioned our Sixth Annual Logos Curry Cook-Off last week and promised recipes of the top three curries.
James Van Noord's curry "Green Monster" was another excellent curry, garnering the third most votes. Here are James's curry making notes:
My base recipe can be found at AllRecipes.com.
My modifications (with thanks to Vincent and Eli for pointers):
added lime juice
added kafir lime leaves
added bird's eye chilies
added extra green curry paste
I didn't use as much lemon grass as is called for. I fished out most of the lemon grass before lunch.
I used 14-oz cans of coconut milk
I tripled this recipe for the cook-off.