For a bibliophile, it felt like the floodgates of heaven had opened.
On Wednesday, a truck pulled up to our offices 1313 Commercial Street, the driver got out and started loading up his dolly with boxes. He made another trip, then another, and another. When he was finished, there were four or five stacks of boxes, each stack five feet tall…
After a company meeting, Bob invited us to open up the boxes and spread out the wealth of riches on the conference room table. Books! Lots of books. Things got a little crazy after that.

Watch the Video (Windows Media, 2.5MB, 1 minute)
The boxes contained about 450 titles, all licensed from Continuum, all headed your way soon via the Logos pre-publication program.
In fact, these books are just the first shipment…another will follow soon. The 450 titles are part of a license we signed with Continuum for some 2,000+ books—books you'll be able to add to your digital library in the coming months (and years).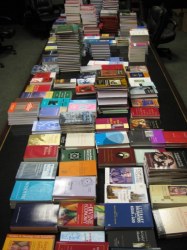 Most of the books in this first batch were originally published by T&T Clark and Sheffield Press.
There are books on theology, NT studies, OT studies, biblical languages, rhetorical studies, church history, gnostic and apocryphal writings, Dead Sea Scrolls studies, Bible introductions/guides, hermeneutics, and more. There truly is something for everyone and I, for one, can't wait to add these books to my digital library.
Now please don't call your favorite salesperson to ask whether your favorite book is going to be on the prepub page soon (we haven't told them and, anyway, they're pretty busy taking orders for Logos 3).
But please do subscribe to NewsWire if you aren't already on the list. Then you'll be sure to hear about the books, and get the best discount as they are put up for pre-order. The first titles and collections from the Continuum license will start appearing on the prepub page within the next week or two.
Let the books rain down!