This is the second part of the fourth post in my on-going series on the Bible Word Study report.
This post will look a little further into the Grammatical Relationships section. Our previous foray into the Grammatical Relationships section is here.
To refresh our collective memories, we're looking at 1Th 2.16. Here it is in the reverse interlinear, with the phrase in question marked up using new Visual Markup features.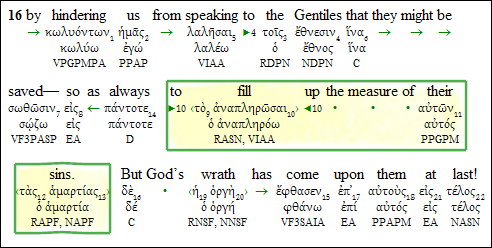 We left off the last post by saying:
So ἀναπληρόω means something like "make complete" or "fulfill" or "replace". We begin to understand the nuance of each of those senses by considering who or what is doing ἀναπληρόω, and to whom or to what ἀναπληρόω is being done. Grammatical Relationships does all of the heavy lifting for you in searching out these usages, categorizing them, and returning them to us grouped by usage context.
So let's examine the results and see what we can learn about the word ἀναπληρόω.