Today's guest blogger is Ken Smith, General Manager of Electronic Publishing Services at Logos.
(This is the next installment in a series of articles about our nearly 60 publishing partners who market their own electronic products using our technology.)
Baker Publishing Group
If you've been following this series from the beginning, you might remember that the first installment pictured a 1996 product from Baker. As one of our longest-standing partners, Baker Publishing Group has been involved with a number of projects, both as electronic publisher and licensor.
That first Baker product included just four books, but introduced some stellar reference titles like the Evangelical Commentary on the Bible and Topical Analysis of the Bible, both by Walter Elwell.
In July of 1998, Baker released a greatly expanded collection, titled The Baker Digital Reference Library, with twenty titles covering a broad range of topics including theology, apologetics, counseling and a new-fangled thing called the "Internet".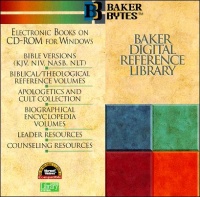 Baker followed this with two author-focused collections: The R.C. Sproul Digital Library and The Norman L. Geisler Apologetics Library.
In recent years, Baker has partnered with us by licensing a number of significant commentary sets and other core reference titles. These include Hendricksen and Kistemaker's New Testament Commentary, the Baker Exegetical Commentary on the New Testament, and the 27 current volumes of the Boice Commentary Series.
Stay tuned for more great electronic resources from Baker—coming soon!
Next: World Evangelical Alliance