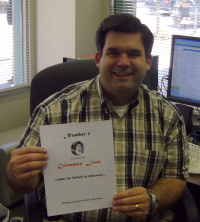 We mentioned our Sixth Annual Logos Curry Cook-Off last week and promised recipes of the top three curries.
Bob Pritchett's curry "Columbus' Loss" garnered the most votes in our 2006 Curry Cook-Off. Bob's notes on the recipe are brief:
I used boneless chicken thighs and ground ginger. And the strongest cumin I've ever tasted.
— Bob
So if you like curry, check it out and slip it in the recipe box. The folks at Logos approve!