Logos business trips can be a little out of the ordinary.
Guillermo Powell, international director for Spanish products, was in Perú recently to establish agreements with national distributors. Two major distributors there will now carry and promote the Spanish and Bilingual libraries from Logos Bible Software.
Perú joins Argentina, Guatemala, Costa Rica, and Spain as Spanish-speaking countries where Logos Bible Software is now available through national distributors. A number of other countries will follow.
In addition to the business side of the trip, Guillermo visited the city of Iquitos in the Amazon jungle, to preach and teach the Word among some of the poorest churches in the country.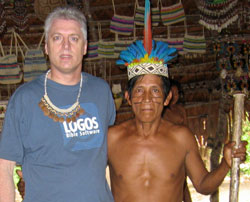 This Bora Indian chief didn't purchase a Logos library, but it was striking to compare lifestyles. Guillermo said, "This chief is a Christian, along with his family that greeted us along the Amazon river." Common ground in a seemingly unlikely place.