One of the new features that is implemented in the now-release-candidate Logos Bible Software 3.0 involves a significant enhancement to our sentence diagrammer.
I discussed this back in December 2005 and illustrated the new functionality with a short video. Check it out.
I bring it up again because first of all, blocking is cool. Secondly because I used the feature in preparation for the Sunday sermon and thought I'd share it. The pastor at the church I attend has been working through Mark's Gospel. I like to work ahead so I'm prepared for what he might say. This weekend, before the service, I did a quick block of Mark 4.1-9 so I had a decent grasp of the text before the sermon.
Now, a few disclaimers: I have no formal training in blocking, just my own reading, thinking and practice. My blocking style (as with most folks) is a bit haphazard. I don't have a systematic method for representing things. Indentions may be for grammatical/syntactic reasons (subordinate clauses, prepositional phrases, etc.) or because I think content is logically dependent on what precedes it. Or because I think I need to but am not quite sure why. It's just me thinking through the text; the process is more valuable than the output. When you block Mark 4.1-9 (go ahead, try it!) you will likely come out with something completely different. My point is that thinking through the passage at this level is the important part; the output only serves to remind you of your thoughts.
Also, I used the new Logos Bible Software 3.0 Highlighting features to highlight repeated words and phrases that I noticed. So when you see the highlights, that's where they came from. Yep, you can highlight more than books & Bibles! And I saved a PDF version of the diagram using the new PDF button on the diagrammer toolbar.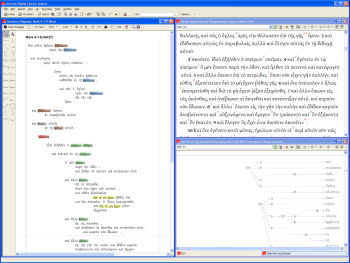 If you find this sort of thing helpful, then you'll really like the Lexham Clausal Outlines of the Greek New Testament. So check those out as well!