In Episodes I and II, I showed how every word in a Libronix DLS resource is a potential link, whether English or another language. I hope you've started going around your digital library double-clicking everywhere.
Here's one more little tidbit: the "ubiquitous link principle" extends beyond resources. It even works in some reports!
While playing around with the Biblical People report that will ship with Libronix DLS version 3.0 I discovered quite accidentally that I could double-click a Hebrew or Greek name at the top of the report and look it up in a lexicon.
So, for example, I'm looking at Obed in the Biblical People report and want to consult my reference works to read more about him. I double-click on the English, Hebrew, or Greek version of his name to open Anchor Yale Bible Dictionary, HALOT, or BDAG, respectively.
(Note: Libronix DLS 3.0 Beta 7 required; your mileage may vary depending on the resources you own and how you've configured your English, Hebrew and Greek KeyLinks).
These are the articles on Obed that open when I do this: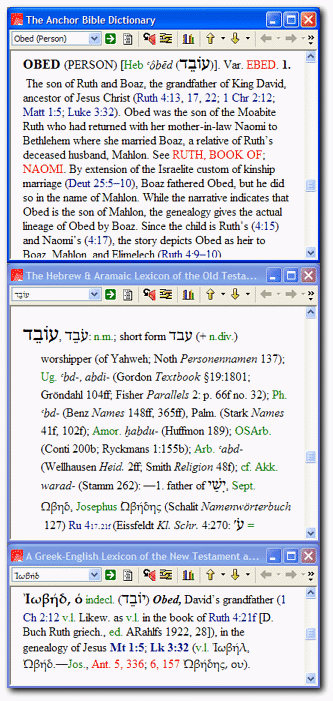 I have to hand it to the developers…they've implemented the concept of KeyLink-ability with remarkable consistency.
All I can say is…Click On!