Another feature of the Logos button for Google Toolbar that I overlooked in this morning's post is that you can launch a search of the Logos.com site by right-clicking text at any other website instead of typing it into the toolbar. This saves precious keystrokes, making all of us lazy typists quite happy.
To pick on Amazon again, you can right-click on the words International Theological Commentary and choose Logos Bible Software from the menu.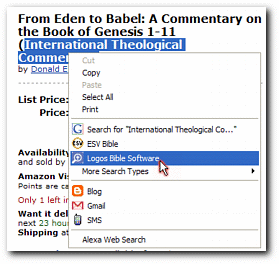 This will launch a search of Logos.com for
International Theological Commentary
, which was just added today as a new prepub. Props to the
ESV blog
for pointing out this feature.
(Note: If you already installed the Logos button you will need to refresh it to get the right-click search thing going. Just click the black triangle next to the "G" inside the Google Toolbar's search box; select Manage; double-click Logos Bible Software in the list of Custom Buttons; click "Update button to latest version from www.logos.com…")
Oh, and in case you were curious…the Logos button is already listed in the Google Toolbar Button Gallery.