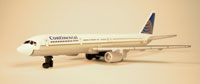 One of my favorite sales stories is about the Logos salesperson who sat next to someone reading their Bible on a plane. Our employee took out his laptop, opened Logos to the same passage, and nudged his seatmate. After an in-air demo the Bible student pulled out a credit card and placed an order right there.
At a company meeting we awarded our flying sales rep a small airplane model as a sales trophy. Not be outdone, two other sales people "earned their wings" in short order.
Statistically, it is not too hard to find someone interested in Bible study sitting next to you on a plane. But people carrying paper Bibles still outnumber Bible software users, so I was really impressed when Scott Lindsey came back to the office to report that the person sitting next to him on the plane was actually using our software during the flight. (Scott, of course, showed him what he could do with more books and sold him an upgrade.)
We are flying all the time and we love to meet our users. So when you are on the road, keep an eye out for the Logos logo on shirts and luggage tags and say hello!