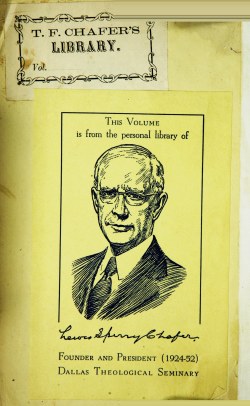 While going through digital images of books we've had scanned at Dallas Theological Seminary library, I recently came across this flyleaf in a commentary by John Owen.
Lewis Sperry Chafer (1871-1952; bio) was the founding president of Dallas Theological Seminary, and he wrote a systematic theology that we just shipped on Monday.
His father, Thomas Franklin Chafer, died when Lewis was just 11 years old. As you can see, the Owen commentary belonged first to the personal library of the father, was passed to the son, and from there to the seminary.
I've heard it said (by detractors of the digital library paradigm) that you never hear of anyone bequeathing digital books to their children. But I just checked with our manager of customer support, John Brandt, who told me it has happened a few times during his 6 years with the company. All we need is a letter from the executor of the estate and we can transfer the licenses to the inheritor.
(Note to self: update will to include name of daughter born almost 2 years ago AND specify beneficiary of digital library.)
I find it interesting that used print booksellers, who often acquire entire personal libraries from an estate or a retiring scholar, will sometimes keep that personal library intact. Dove Booksellers does this and lists the books as collections on their website. It's fascinating to look through the books that belonged to a notable scholar and see what they found worthy of owning. [Caution: this practice can produce severe book envy.]
But it's only a matter of time until the same thing happens with Logos Bible Software users who have amassed a personal library numbering in the thousands. Maybe someday you'll find yourself looking through a list of 1,500 electronic books owned by a notable scholar in a field you're interested in and we'll offer you a way to buy them all in one fell swoop as a custom collection.
It could happen…